Adopt an Animal

When you adopt an animal you're not only giving an inspiring gift to someone special but you're making a real difference to the world we live in. Across the globe there are many species at risk of extinction through climate change, deforestation and the clearance of land for building homes for the world's rapidly increasing population. Each of our adopt an animal packs has been carefully selected to ensure your gift will make a real difference with most of money from the sales going to support the work of animal charities as they protect endangered and orphaned animals.

They come with gift certificates and details of the animal you have chosen to adopt together with details of their species, the dangers they face and the work undertaken to protect their natural habitats. It is through the work of these groups that we can work together to ensure the survival of endangered animals not only for their future but for the generations of children to come who would otherwise only be able to read about them in books or watch them on video.
---
Adopt an Animal: Adopt a Monkey



Adopt a monkey with the People's Trust for Endangered Species when you buy this gift pack or choose from one of six other species including apes and chimpanzees.
---
Adopt an Animal: Adopt an Elephant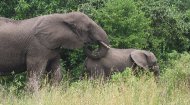 This adoption pack works with People's Trust for Endangered Species and helps protects elephants and their natural environments in both Africa and India. Please note tat these adopt an animal packs are sold based on need so occasionally only the Indian or African elephant will be available to adopt.
---
---
Adopt an Animal: Adopt a Giraffe



Adopt a giraffe in Africa with this adopt a giraffe gift pack and help protect and conserve their natural habitats on a continent where the giraffe population in Africa has dwindled by 40 per cent in just 30 years.
---
Adopt an Animal: Adopt a Meerkat



Adopt a meerkat at the meerkat reserve park in Oudtshoorn, West Cape, South Africa, the only conservation project in the world which seeks to protect wild meerkats.
---
---

With this gift pack you can adopt an African lion or one of the other big five cats of Africa whose lives are endangered due to poaching, hunting and the degrading of their natural environments.
---
---