List of Africa Animals

Given the vastness of the continent of Africa. it will come as no surprise that the actual numbers of animals and other creatures living there is not known although numbers are clearer for endangered species as their populations are monitored closely. What is known is that there are 1,100 mammal species in Africa, 2,600 bird species, at least 117 reptile species, 260 amphibian species, 3000 species of freshwater fish and 100,000 species of insects, making up 15-20% of all the insects in the world. Here we list the main animals of Africa, with many being unique to the continent.

One of the reasons for this rich diversity of wildlife in Africa is its size with land ranging from jungles and forests to grasslands and deserts. Most countries in Africa have adopted one of more of these animals as their national emblem or symbol. For example the leopard is the official national animal of Somalia and Rwanda, the oyx is the national animal of Namibia and, unsurprisingly, the springbok is the official animal of South Africa. Other countries have chosen birds such as Namibia and Zambia who use the Fish Eagle while other countries also 'adopt' both birds and animals with South Africa also being represented by the Blue Crane and even has a national fish, the Galjoen. This A to Z list of Africa animals is a work in progress and will continue to be updated so please bear with us!


---
Aardvark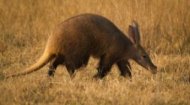 The Aardvark takes its name from "Earth Pig" and lives for around 23yrs in sub-Saharan Africa. Around 4ft long with a two foot tail, their main food are termites and ants which they extract with their 1ft long sticky tongue. The Aardvark or ant eater is a strong swimmer and tunnel digger which protects it from predatory animals.
---
Aardwolf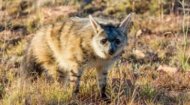 The Aardwolf from the Dutch for "Earth Wolf" is a member of the hyena family and can be found in southern Africa, Angola, Zambia and Mozambique with a further population in the north across Tanzania, Uganda, Somalia, Sudan, Ethiopia and Egypt. Measuring 22-31 inches long, the Aardwolf stands at around 20 inches tall at the shoulders with a 10 inch tail. It feeds mainly on termites and rests in burrows during the day, feeding at night.
---
Addax



The Addax, or White Antelope, is currently listed as "Critically Endangered" as there are believed to be just 300 remaining in the wild mainly in Niger, Chad and Mauritania although many more form part of private collections in Europe and America. Suited to desert living, the Addax which grows to just under 4ft tall, can live without water for extended periods and feed on shrubs and grasses.
---
---
Addra Gazelle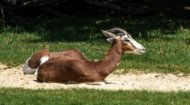 The Addra Gazelle also known as the Dama Gazelle is another critically endangered animal having seen its population decreased by 80% over the last ten years with just 500 remaining in eastern Mali, Niger and Chad. The largest type of gazelle, the Addra has long powerful legs and can run as fast as an adult Addra in just a week after birth. They live for around 12 years and feed on grasses and leaves.
---
African Bush Elephant



The Africa Bush Elephant, the largest of Africa's two elephant species, is the largest mammal on earth and can weigh up to six tons. Normally living in groups of around ten individuals (although much larger clans have been known) the African Bush elephant lives primarily in the plains and grassland in sub-saharan Africa feeding on grasses, fruits and roots. It can live for 60-70 years although is hunted mainly by lions, hyenas, and, of course, humans.
---
African Chimpanzee



The Africa chimpanzee lives across the savannahs and forests of central and west Africa numbering between 170,000 to 300,000 though currently classified as "Endangered" because of loss of habitat, hunting and disease. The African chimpanzee lives in "troops" of between 30 to 80 individuals and feeds on leaves, fruits and buds being quite selective in their choice. Occasionally they will also eat meat. Living to around 50 yrs old they grow to around 4-5 ft tall and can weigh up to 143 lb.
---
---
African Civet



The Africa Civet lives in tropical rainforests across sub-Saharan Africa as they require a readily available water source. They are tree dwellers and feed mainly on frogs, snakes and rodents when they hunt at night. Measuring around 2 ft tall, they live for around 18yrs on average. Although their natural habitats are slowly being destroyed, they exist in such abundant numbers that their are currently no concerns as to their population numbers.
---
---