Africa Safaris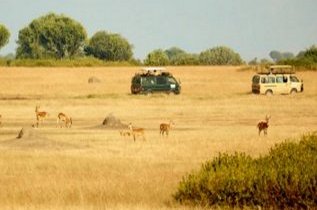 Africa's top safari destinations include wildlife parks in Kenya, Tanzania, South Africa, Botswana, Zimbabwe, Zambia, Namibia and Gabon however Uganda is now emerging as a destination of choice for these wildlife adventures, not least because a number of safari operators can get you up close and personal with the animals. While the Serengeti National Park, the Masai Mara National Park, South Africa's Kruger National Park, Botswana's Selinda Reserve and Zambia's splendidly isolated South Luangwa National Park are all excellent safari destinations with an abundance of wildlife, most safari tours have you seated inside a van from which you can take turns to stand up and see the wildlife.

Some of the safaris organised in Uganda ~ which is the only country where you can see the tree lion ~ actually allow you to sit on top of the jeep when accompanied by an experienced driver who is familiar with the Queen Elizabeth National Park. The Queen Elizabeth National Park itself covers an area of 764 square miles in the south-west of Uganda stretching from Lake Edward in the south to the Rwenzori Mountains in the north. Founded in 1954, it is home to ninety-five different species of mammal and over five hundred types of bird some of which were photographed by this site on a recent safari to the park in late 2013 and showcased above.

You can take a three day trip to the park to go on safari setting off from a hostel near Ntungamo in Uganda. Day one consists of a game drive through the park before setting up camp next to a river that provides a border with the Democratic Republic of Congo. There you will sleep around a camp fire with an armed night watch man protecting you from the nearby river hippos and baboons. Day two consists of a further drive then an afternoon boat cruise followed by dinner at a nearby restaurant. Day three consists of further game drives, visiting craft huts and a late breakfast. More details here.
---
---

Our live and streaming African safari webcam will show you all the main safari animals from a nature reserve within the Kruger National Park.
---
---

Find out all about the Big Five animals of Africa including how they got that name!
---
---