African Safari Webcam

Originally we showcased a webcam that took the viewer live on an African safari, however the pandemic forced a number of operators to close at least temporarily and so instead we are highlighting a webcam that features many animals you would see on a safari including cheetahs, lions, elephants, giraffes, impalas, baboons, warthogs, owls, Egyptian geese, genets, waterbuck and porcupines but obviously not all at the same time! This safari webcam is located in the Balule Game Reserve within Limpopo Province, South Africa and the reserve forms part of the Greater Kruger National Park.

The reserve covers an expanse of some 40,000 hectares and was created in 1990 from number of smaller private properties and, because it has an open border with Kruger, it has the same ecosystem with all the major safari animals being present. You can see more animals in the Balule Game Reserve below by watching our 'River Webcam' that features the Olifants River which runs through the centre of the reserve which is largely savannah woodland and grassland set against the dramatic backdrop of the Drakensberg escarpment.
---
---
African Safari Webcam: African Wildlife Webcam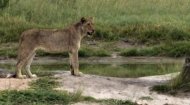 This African wildlife webcam streams live from the Djuma Game Reserve in South Africa where you can watch african wildlife and animals including impala, kudu, hippos, hyenas and a great number of birds, reptiles and insects. You may even see the Big Five animals of Africa.
---
---

In this live streaming webcam of the Olifants River, which is a tributary the Limpopo River in South Africa and Mozambique, you can often see crocodiles and hippos.
---
---