Mozambique Webcam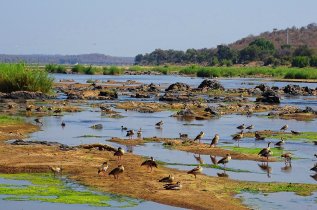 This is one of our favourite webcams as it overlooks the Olifants River, a tributary the Limpopo River. The Olifants River itself rises between Breyten and Bethal in Mpumalanga Province before its long journey including cutting through the Lebombo Mountains before finally joining the Limpopo River and eventually flowing into the Indian Ocean north of Maputo in Mozambique. Although occasionally heavily polluted by natural green algae, especially when there is a lack of rainfall, baboons, waterbuck, bushbuck and impalas can be seen along its riverbanks and, if you are lucky, crocodiles as well in addition to hippos. You might also catch sight of lions but they are harder to see. The watecourse runs for around 12.4 miles through the Balule Nature Reserve where this river webcam is sited. The reserve itself is located in South Africa's Lowveld which prides itself on being one of the country's main wildlife areas being home to 90 mammal and more than 400 bird species.

These birds include the lappet-faced vulture, Pel's fishing owl, martial eagle and larger birds incuding the kori bustard, ground hornbill and saddle-billed stork. As with all our live streaming webcams, you won't see much as night and often they go down either for maintenance or because some of the wildlife you are hoping to see has become over curious and damaged the camera. If that is the case we have a number of African webcams for you to enjoy.
---
---

See the world's largest elephants at Tembe Elephant Park located in South Africa, an elephant reserve on the old Ivory Route between Mozambique and the Zulu Territory.
---
---

This desert webcam streams live from the Gondwana Namib Park in Namibia and you should be able to see gazelles, giraffes, wildebeests, mountain zebras, ostriches, warthogs, porcupines, hyenas, cheetahs, panthers, jackals, and foxes among other wildlife.
---
---