African Wildlife Webcam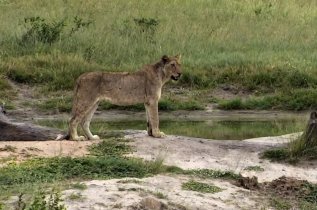 Check out our online streaming African wildlife webcam which is the oldest in the world and comes to you live from the Djuma Game Reserve in South Africa. Situated on the western border of the Kruger National Park, the Djuma Game Reserve is a 1,200 hectare private area which itself forms part of the Sabi Sand Game Reserve in Mpumalanga Province. The word 'Djuma' comes from the roar of a lion and has the highest density of big game in South Africa, mainly down to generational conservation projects and is reportedly the best place in Africa to see leopards. The Reserve is home to over 47 large mammal species, 300 species of birds and 57 species of reptile as well as other animals including impala, kudu, hippos, hyenas and smaller mammals such as bats, sm all rodents but, above all, the imapla are in great abundance.

The Kruger National park itself was first established as long ago as 1898 when the area between the Sabie and Crocodile Rivers was set aside for restricted hunting. Its first warden was the Scotsman James Stevenson-Hamilton who took up post in 1902 when the park was known as the Sabie Game Reserve however it merged with the Shinwedzi Game Reserve in 1927 following the National Parks Act and was renamed the Kruger National Park. Today Kruger is not just one of Africa's largest game reserves. This African wildlife webcam is just one of a number of webcams you can view at teh African Volunteer network to see live streaming action from Africa. From time to time some of the webcams become inoperational as they are subject to flooding and technical faults. Because of their often remote location it can take weeks, sometimes months to reach and repair them!
---

Located deep in the heart of Africa in the Sabi and Game Reserve, this webcam shows LIVE images of the African lion together with the remaining 'Big Five' animals.
---
---

Watch elephants, hippos, giraffes, zebras, gazelles, leopards and many other species enjoy the watering hole situated at Mpala in Laikipia County in Kenya on the Equator!
---
---